I'm waaaay behind on my book reviews on here. In a manner of catching up a bit, I'll share some of my reads that were a bit underwhelming. Each of the three following books I'd probably have a hard time writing a whole post about, which is why I'm combining them all here.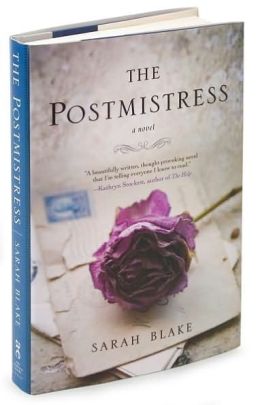 The Postmistress
is a book that rotated around my book club a little and I was intrigued with it from the beginning. The story follows three very different women during World War II. One woman is a newly appointed postmistress to the small town of Franklin, Massachusetts. The second is the wife of a young doctor in Franklin who has decided to volunteer his medical expertise over in England during the war. And last, but not least, is a young female reporter in England.
This book addresses some very real problems and moral questions during wartime. That age old question of whether or not a hurtful truth is better than simply not knowing is explored and expressed.
I'm not really sure how I would articulate my feelings about this book. I didn't hate it, but at the same time I didn't particularly like it either. I would give it 2.5 stars if pressed, somewhere between the ranking of "I didn't like it" and "It was OK."
I absolutely love Jennifer Weiner. One of my favorites is
Good in Bed
(click
here
for my review of it). She's normally laugh out loud funny and always seems to have a fantastic moral. She always seems to bring around the important point that you just need to be yourself and everything will work out the way it's intended.
Then Came You
is not her most recent (click
here
to read my review of
The Next Best Thing
), but her second most recent release. This story surrounds a donor and surrogacy relationship from top to bottom. The story is told through four women: the egg donor, the surrogate, the would-be mother and the would-be mother's step-daughter. The dynamic of the four women is very complex and interesting. Somehow, this book just didn't do it for me though. Weiner's normal humor is lacking and I had a hard time relating to most of these women. I'd classify this one as another "OK" book and give it 2.5 stars.
Lastly for today,
The Tiger's Wife
. This is one of those books that I was seeing everywhere for book clubs and those "If you've read this, then you'll love that" lists. About a year ago I snatched up a copy at my local used book store. As you regular readers know, I have about a one year queue leading up to most of my books. So, I finally got around to reading this one.
The premise of this book is that Natalia, a young doctor in a Balkan country, is notified by her grandmother that her grandfather has died from cancer. Her grandfather was also a doctor and was away from home when he passed. Natalia sets out on a journey to discover why her grandfather set out on a such a journey when he was so near to death.
The first two-thirds of this book consists of character development and flashbacks of stories that Natalia remembers her grandfather sharing with her. It isn't until after this that you even learn who the tiger's wife is. Though, you learn pretty early on that Natalia's grandfather was in search of a "deathless man" whom he had met a few times throughout his lifetime. Both the "deathless man" and the "tiger's wife" are considered myths/legends within the country, so Natalia has never really taken them seriously.
My feelings about this book are pretty disappointing. I felt like the first two-thirds of this book could have been cut dramatically. I wasn't really "into" the story until that point and the ending left me thinking...that's it? I did notice in the back of my copy that there was an interview with the author in which it's stated how beautifully the author didn't overstate or embellish. Uhhh...I could have gone for more. This one's a 2 star-er for me and I don't think I'd recommend it.