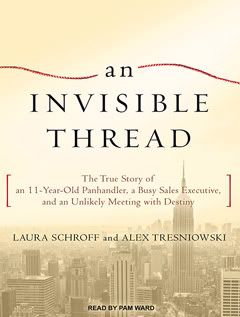 An Invisible Thread
was recommended to me by one of my aunts. This particular aunt has only ever really recommended to me two books:
A Thousand Splendid Suns
and
The Immortal Life of Henrietta Lacks
. Needless to say, these two are favorites of mine...in fact, the second is my all-time favorite non-fiction. So, I wholeheartedly took her advice to pick this book up.
This book is exactly what the subtitle says it is...the true story of an 11-year-old panhandler, a busy sales executive, and an unlikely meeting with destiny. This book is written by Laura Schroff, the busy sales executive, and the book starts off with her walking on the streets of New York City one day and seeing a young boy asking for money. She keeps walking on past him, but a few paces later, inexplicably, she decides to turn around and offers to take him for a meal. After this first meeting the two develop a relationship over time and are still close today.
This is one of those books that makes you feel good, while wishing that you did more in your everyday life to help the less fortunate. I really liked this book, but I wouldn't say it's a new favorite. If you're looking for a quick, feel-good read, then I would recommend it. But, don't expect anything earth shattering; it's just a good, solid mini-autobiography.