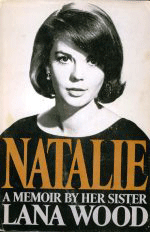 Have I mentioned that I love reading about real-life stuff, especially involving movie stars, that happened earlier last century? Oh, I haven't? Because I do. Hence, the Marilyn Monroe and Grace Kelly biographies I've reviewed previously (you can click
here
and
here
to read those reviews, respectively). There's just something about old movie stars that's intriguing. Maybe I'm starting to get an obsession with biographies too...
Natalie
is one of the many books I picked up at my great-great aunt's house when we were cleaning out and purging her of the superfluous items she wouldn't need when she moved. I have to say that my knowledge of Natalie Wood was very minute when I picked this book up. I can tell you that my mom does not care for Robert Wagner or Christopher Walken because of Natalie Wood. In her heart of hearts, she feels that one or both of them had a hand in her "accidental drowning" that has, since earlier in 2012, no longer been ruled as such. So...with that knowledge and the fact that I knew she was a big movie star...that's about all I knew.
I have to say, after reading this book, her life
was
fascinating. I mean, really and truly. Natalie (born Natalia [or Natasha] Nikolaevna Zacharenkowas) was the daughter of two Russian immigrants and her mother whiled her way onto a set, attempting to get Natalie her first job, by pretending her English wasn't quite as good as it was. I think some people still use this old trick even today. Ahem. Speaking of her first big part...you might recognize her here, in this age-old classic,
Miracle on 34th Street
.

Later on in her acting career, you might also recognize her as one of the leads in West Side Story...
Natalie
was written by her sister, Lana Wood, shortly after Natalie passed. And I felt that certain parts were brushed over a bit, simply because Lana so loved her sister and perhaps viewed Natalie with rose-colored glasses. There was another biography,
Natasha: The Biography of Natalie Wood
, more recently published...and which I purchased just last week! I might be a little obsessed... Here are a few interesting tidbits that I learned while reading this book:
Both Natalie and Elizabeth Taylor were the first two child stars to ever make it all the way to adulthood and continue on as popular movie stars.
Natalie was horrified of water and drowning...and she died from a drowning.
Natalie was married to Robert Wagner twice, he was her first and last husband.
Natalie was good friends with Robert Redford and Steve McQueen...and was even more with Warren Beatty.
Natalie had a short-lived romantic relationship with Elvis Presley.
Natalie was a major animal lover, but felt she trained hers a bit better than her friend, Marilyn Monroe, who supposedly let her animals "potty" on the floor.
Natalie was one of very few actors who had "quote approval," which is when they see and edit every word supposedly uttered by them before it sees print. Some, like Natalie, also have photo approval. Other stars with this power are/were: Barbra Streisand, Robert Redford and Goldie Hawn.
Natalie was always very petite and used to say that alcohol affected her somewhere around the second sip of her second glass of wine.
I think it's pretty obvious that I enjoyed this book and can't wait to read the more recent biography of Natalie Wood. So, in case you're still wondering, yes I recommend this book! I'll leave you with my favorite picture from the excerpts within the book.