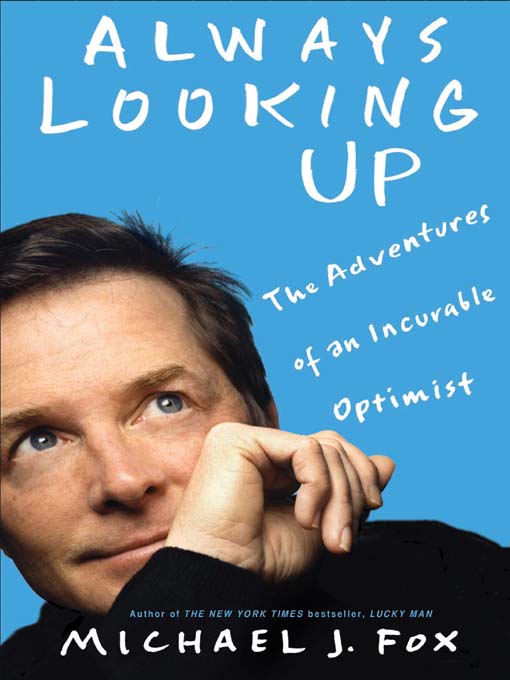 You guys remember me sharing with you
Lucky Man
, Michael J. Fox's first memoir? David and I both loved it and especially enjoyed the fact that the audiobook was read by the man himself.
On our last trip to Kansas City (go Chiefs!!) David and I listened to
Always Looking Up: The Adventures of an Incurable Optimist
. The first book outlines Fox's life through 2003.
Always Looking Up
was published last year and is supposed to bring you "up-to-date" on Fox's life within the past decade, which it does well.
The first thing in this book that caught my attention and I laughed at was the title. Fox meant this both figuratively and literally when he picked it...always looking up. Coming from a man who is much shorter than the average Joe...well, at least he can laugh at himself. Being a comedian and all, that probably comes naturally, at least in some aspects.
This book is written in a way so that those that have not read
Lucky Man
are caught up to speed. There was a little bit of redundancy if you've read the first, but not overly much. Fox discusses his attempts to raise awareness and funds for Parkinson's throughout the past 5-8 years as well as the politics of this feat. Campaigning for different political figures is discussed due to the need for stem cell research. While stem cell research is something I have a definite opinion on (which I will not disclose since this is a politic-free blog), at this point in the read my eyes might have gone a little glassy since I'm not big into politics.
In another section of the book, Fox discusses how there is some talk of him playing up his disease and that perhaps he's "faking it" to tug on the heartstrings of America. This was proclaimed by a rather famous person...and I was more than a little disgusted.
Many more detailed accounts of Fox's life and how he remains optimistic still are found in this book. While I enjoyed this book, I will say that I enjoyed
Lucky Man
more. Why? While this book is well-written it is not read like a novel as
Lucky Man
was. However, I do still highly recommend it! This set of books would make an excellent Christmas gift if you're looking for something in this genre...I'm just sayin'.