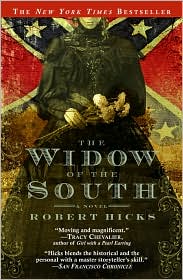 I have a few books to review before I can start reviewing the books from
my personal challenge
made earlier this week.
The Widow of the South
was an audiobook I picked up a few weeks ago at the library book sale. The backcover was intriguing and the more I listened, the more interesting this story became. Classification for this book is somewhat difficult because it's considered fiction...however, the basis of the story is true.
The basic gist of this book concerns the life of Carrie McGavock. Mrs. McGavock's house was converted into a hospital by the Confederate army during the Civil War...specifically during the Battle of Franklin. This was one of the bloodiest battles of the war and many, many men were brought to the Carnton Plantation, the McGavock household.
Carrie is not a perfect woman, but she has a soft spot for the numerous men that are wounded and die within her household. There are descriptions within the book that are astonishing, it's no wonder McGavock has a hard time not getting attached. For example, amputations occurred upstairs and it is said that the pile of limbs thrown from this window reached that second story window before the house was turned back over to the McGavocks.
The incredible thing Mrs. McGavock did at the end of this novel is this... Rather than letting someone plow over the dead bodies buried in the spots where they died on the battlefield, she had them moved to her property...to her own personal cemetery. From there, she tended the graves and corresponded with the mens' families for the next 40 years of her life. Incredible.
A lot of historical literature is quite dry. And though this is not truly historical...there were a lot of holes in the documents and historical files so Hicks had to piece bits together...I would still consider this a good historical narrative. Robert Hicks does a very good job of melding facts and patching holes in information so that the story weaves well. I would definitely recommend this book if you're looking for a true (to a point) tale that you don't hear every day.