As I mentioned yesterday, this past weekend was my first two wedding showers. Because it was going to be a nice, long holiday weekend...and because David and I usually drive up to Kansas on holidays, David's aunt Bev asked me if she could schedule a shower from their side of the family. Bev is Richard's (David's dad) sister-in-law. We'll simply call this the "Z Family" shower.
The "Z Family" shower was fabulous! All of David's cousins, their spouses and children, plus one aunt showed up. We had a fun family picnic and played games. One was a fun matching game where you had to match famous lovers from history, literature, etc. Of course, David and I were one of the couples included in the game. Others that were listed were Romeo & Juliet, George & Martha Washington, Lancelot & Guinevere, Homer & Marge...well, you get the idea. Whomever finished their matching list first and got all the answers correct won.
Did I mention there was great food? We had barbecue with different salads and beans. The absolute BEST part was the dessert though. Let me tell you, this family knows how to do dessert! We ate homemade ice cream, fresh from the garden strawberries, poppy seed cake, PW chocolate cake AND peanut butter cake. OH. MY. GOODNESS. There is nothing better than...well, any of this!
David's family introduced me to poppy seed rolls when I first met them. They are to-die-for! They look like the picture to the right...and Donna, David's mom, told me this was one of my "tests" on whether or not I was a keeper. You HAVE to like poppy seed rolls to be a member of this family, haha! Luckily, David's sister's boyfriend passed this test as well. If you have never had a chance to try these...you must! That black stuff inside is the ground poppy seed spread and it is deeeeeelish. They're like little black, crunchy seeds that are sweet with a tiiiiiiny bit of bitterness. Perfection. Hmmm...maybe we'll get a poppy seed grinder at some point throughout this whole wedding stuff... This is definitely something I'm going to want to learn how to make someday!
Anyway, all I had ever had was poppy seed roll...when I saw the poppy seed cake I HAD to have some...but, I couldn't pass up the PW chocolate cake. I mean, HELLO! Oh yea, and the homemade ice cream AND fresh strawberries. Alas, my tummy was too full to make it to the peanut butter cake. But, I heard it was scrumptious as well.
Getting back to the shower...we also opened presents. Lots and lots o' presents. The Z's also bought us one big present, David's newest pride and joy:
We can't wait to try 'er out! Plus, if anyone has any tasty ice cream recipes, I'm all ears!
David's church was also chomping at the bit to throw me a shower and since we were already up that way this weekend, they scheduled theirs for after the service on Sunday. Because we both have/had established households (I'll give an update on my house-selling adventure soon-promise!), they ran with the idea of a recipe shower. I had never heard of this before, but I was game. What the attendees bring is one of their favorite recipes along with a utensil or appliance required to make the dish. This was A LOT of fun! David was extra excited to see what I came back with because the women in this church have a reputation for being great cooks/bakers.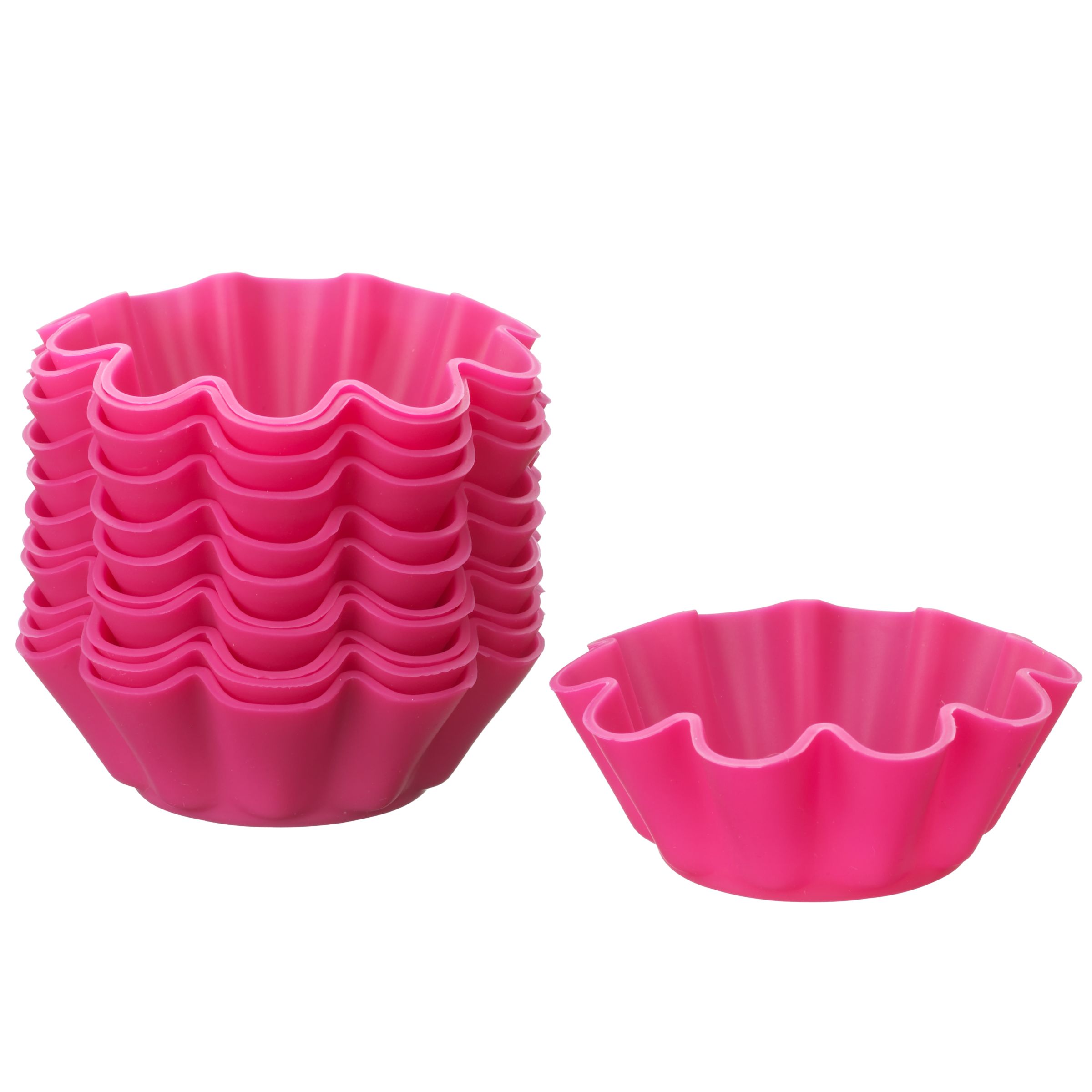 I received everything from a crock pot to dish towels (my favorite one was embroidered with "Crystal's Kitchen") to servers to a cookie sheet to a cake pan to a peeler and many, many more items! One of my favorite items that I cannot wait to try out are silicone cupcake liners. They look exactly like this...only different colors. Don't worry, there will be a review on these cuties! My other favorite item was a custom-made modern-looking apron in colors of red and purple. I'll have David take a picture of me wearing it some time.
Of course, I received TONS of recipes as well. A lot of these women couldn't pick just one, so it wasn't unusual for me to open a present with 2-3 recipes and 2-3 items for these recipes. You can be sure I'll be trying a bunch of these recipes out (everything from muffins to cakes to meat marinades to casseroles) and if they're goodies, I'll be posting 'em!
To say that David and I made out like bandits this past weekend is an understatement. I am so incredibly thankful for this new family and church environment that David has been raised within. These are some great people and I look for many years to come with these generous and warm-hearted individuals! I am truly blessed to have found this man and his delightful family and friends. More wedding updates to come!